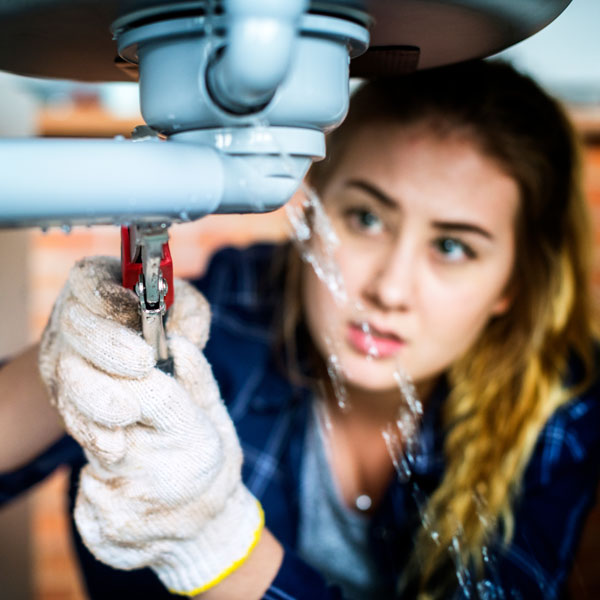 March 16, 2021
A homeowner spends an average of $2000 on maintenance. It includes plumbing, landscaping, and other repairs. According to HomeAdvisor, an average plumber charges $45-200 per hour for their services. Looking at these numbers, you may want to try DIY maintenance.
Essential plumbing tools
Before you can start with DIY plumbing, there are some essential plumbing tools that you must have in your toolkit.
A pair of plungers (both flange plungers and cup plungers)
A pipe wrench
Screwdrivers
A pair of pliers
Plumbing tape (PTFE tape)
A sealant gun (caulking gun)
Some of the most common plumbing issues in every household include clogged toilets and sinks, leaks, and dripping faucets. Here we lay down five vital plumbing tips you can try at home to solve these issues.
For leaking faucets or toilets - Worn out flappers are the most common causes of leaks in a faucet or toilets. They are easily replaceable. Cut off the water supply by turning the stop tap located near the tank. Open the fixture or fitting to examine the flapper. If it's damaged, buy a new one and replace it.
For clogged kitchen sinks and toilets - In case of a clogged kitchen sink, fill it with hot water and work the clog with a plunger. A flange plunger works best for the kitchen sink, and a cup plunger is good for clogged toilets. Avoid pouring chemicals down the drain as they do more harm than good. If it doesn't work, you can also try using a manual snake drain for kitchen sinks.
For dribbling showers - No one likes to stand under a shower that doesn't jet out water perfectly. But most often, we seek a plumber to solve this issue. You can fix it easily by using a vinegar solution. The most common reason behind a dribbling shower is the calcification of limescale. A vinegar solution can help clear it off. Remove the aerator on the shower and place it in vinegar for few hours. It will go back to being sparkling clean.
For bathtubs - Most bathtubs are attached to a wall, and you need to reseal them once in a while. We usually leave it to the plumber as we feel it can be messy if gone wrong. But sealing is a straightforward task if you use the right sealant. There are multiple types of sealants available, such as adhesive, acoustic, acrylic, elastic, silicone, and polysulfide. For sealing bathtubs, use a sanitary glue that's clear and waterproof. Apply it evenly using a caulking gun.
For pipe fittings - Sometimes a pipe fitting won't come off no matter how much pressure you use with a wrench. At such moments, you leave the job and call a plumber. Before doing that, try heating the fitting with a propane torch for a few minutes. In most cases, it does the trick.
About J & J Heating, Air & Plumbing
Most of the time, DIY works. But on occasions when it doesn't, J & J Heating, Air & Plumbing is there to help you. We offer a wide range of household services, including plumbing, preventive maintenance, sheet metal fabrication, air duct cleaning, and commercial HVAC. You can call us at 478-955-4457 for an inspection or email us at info@jjsavestheday.com to know more.